Kresge Student Lounge
The Kresge Student Lounge is an smaller, intimate space suitable for programs with 20 or fewer people. An ideal meeting space for student groups who are looking for somewhere to come together, the Kresge Student Lounge is furnished with couches and armchairs. The seating is completely modular and can be recofigured easily and quickly.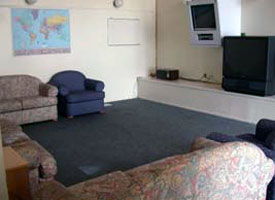 The Kresge Student Lounge also has a big-screen television in the space and can be used for small-scale film showings or television viewing. When not in reserved use, the Kresge Student Lounge is available for Kresge student use as a study space or a lounge space. Please be respectful of groups who have reserved the space.
Connected to the Student Lounge is the Kresge Commuter Lounge. Equipped with a kitchen, showers, and bathroom, the Kresge Commuter Lounge is the perfect place for those who are biking to class or just need somewhere to use a stovetop.
To reserve the Kresge Student Lounge, please contact the Kresge Programs Office at (831) 459-3925 or email kresgeacpc@ucsc.edu.