Kresge Faculty Fellows
Kresge College Fellows are dedicated artists, teachers, and scholars drawn from every field of study at the University.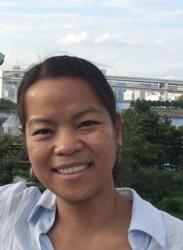 Title
Division Physical & Biological Sciences Division
Department

Ocean Sciences Department
Institute of Marine Sciences

Phone
Email
Fax
Website
Office Location

Earth and Marine Sciences

Room A455

Mail Stop Ocean Sciences
Mailing Address

1156 High Street
Santa Cruz CA 95064
Summary of Expertise
Aquatic microbial ecology, bacteria-phytoplankton and -zooplankton interactions, microbiomes, ecology and evolution of host- microbe symbiosis
Research Interests
Aquatic Microbiomes, Microbial ecology, Evolutionary biology, Biological Oceanography

My research focuses on understanding the interactions between bacterial microbiomes and their aquatic eukaryotic hosts, how these associations influence the ecology and evolution of both partners and what are the impacts of these interactions on ocean health and biogeochemical cycling. I combine experimental, physiological and molecular approaches in elucidating the factors and mechanisms that affects the stability of the host-bacteria association and how this in turn affects hosts' health and functioning in their aquatic environment. Communication between bacteria and hosts, influences of bacteria on host metabolite secretions and immunity to diseases, and environmental influences to microbial community structure and function, are key areas of research that are being pursued in my lab. The goal is to understand how these interactions drive the microbial world, the microbes' responses to environmental change and ultimately, how these affect the cycling of nutrients and the health of the ocean.
Biography, Education and Training
2011- 2013 Postdoctoral Fellow, University of Basel, Switzerland
2009- 2011 UC President Postdoctoral Fellow, University of California Irvine
2009 PhD in Biological Sciences, University of California Irvine
2003 MSc in Marine Science, University of the Philippines Diliman
1994 BSc in Marine Fisheries, University of the Philippines Visayas
Honors, Awards and Grants
UC President's Postdoctoral Fellowship, 2009-2011
William F. Holcomb Scholarship, UC Irvine, 2008
Frances Benton Fellowship, UC Irvine, 2008
Grover C. Stephens Memorial Fellowship, UC Irvine 2007
Outstanding Paper Prize, Journal of Experimental Biology, 2006
Sigma Xi Grants in Aid, 2006
Faculty Mentor Program Fellowship, UC Irvine, 2005-2006
Recognition for Outstanding Achievement in Scientific Research, University of the Philippines Diliman, 1999
Fisheries Scholarship Program, BFAR, Philippines, 1990-1994
Selected Publications