Kresge Faculty Fellows
Kresge College Fellows are dedicated artists, teachers, and scholars drawn from every field of study at the University.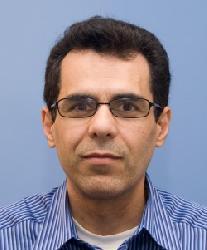 Pronouns he, him, his, his, himself
Title
Division Baskin School of Engineering
Department

Electrical and Computer Engineering

Phone
Email
Website
Office Location

Engineering Building 2, 245B

Engineering 2, Room 245B

Office Hours By appointment
Mail Stop SOE2
Mailing Address

1156 High street, Engineering 2
Santa Cruz CA 95065

Faculty Areas of Expertise

Electrical Engineering
Summary of Expertise
Communication and Information Theory, Analysis of large scale Networks, Performance Analysis of Communication Networks, Information theoretic Security, Machine learning based communication system design.
Research Interests
Wireless communications
Analysis of networks and protocols
Network coding
Interaction between social and communication networks
Information theoretic security
Machine learning based communication system design
Biography, Education and Training
Hamid Sadjadpour received his Ph.D. degree in Electrical Engineering with an emphasis on communication theory from University of Southern California (USC) in 1996. During his Ph.D., he worked part-time at Lincom corporations between February 1994 and July 1995 as a member of technical staff. During this period, he worked on the design of communication systems for satellite applications. Since December 1995, he was with AT&T Shannon research Lab as a senior technical staff member. He was promoted to Principal technical staff member in 2000. In the fall of 2001, he joined the department of Electrical Engineering at University of California, Santa Cruz as an assistant professor where he is currently employed.
Honors, Awards and Grants
IEEE 2017 Conference on Cloud and Big Data Computing best paper award.
IEEE European Wireless 2010 conference best student paper award,
IEEE Fred W. Ellersick Award for Best Unclassified Paper at the 2008 Milcom conference,
Best Paper Award at SPECTS 2007 conference,
Senior Member of IEEE.