Kresge Faculty Fellows
Kresge College Fellows are dedicated artists, teachers, and scholars drawn from every field of study at the University.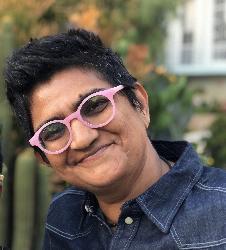 Title

Professor and Founding Co-Director, Center for South Asian Studies

Division Humanities Division
Department

Feminist Studies Department

Affiliations South Asia Studies, Literature Department, Queer and Sexualities Studies
Phone
Email
Website
Office Location

Humanities Building 1, 336

336 Humanities Bldg. 1

Office Hours By Appointment and Wednesday 1.30 -3.00 p.m.
Mail Stop Humanities Academic Services
Courses 80F. Feminisms of/and the Global South, 100. Feminist Theories, 145. Racial and Gender Formations in the U.S., 194E. History of Sexuality, 194M. Empire and Sexuality, 201. Topics in Feminist Methodologies, 207. Topics in Queer/Race Studies, 232. Topics in Postcolonial Studies
Research Interests
Anjali Arondekar is Professor of Feminist Studies at the University of California, Santa Cruz, and Founding Co-Director of the Center for South Asian Studies, UCSC. Her research engages the poetics and politics of sexuality, colonialism and historiography, with a focus on South Asia. She is the author of For the Record: On Sexuality and the Colonial Archive in India (Duke University Press, 2009, Orient Blackswan, India, 2010), winner of the Alan Bray Memorial Book Award for best book in lesbian, gay, or queer studies in literature and cultural studies, Modern Language Association (MLA), 2010. Her second book, Abundance: Sexuality's History (Duke University Press, 2023), grows out of her interest in the archival figurations of sexuality, caste and empire in colonial British and Portuguese India.
Biography, Education and Training
Ph.D., English, University of Pennsylvania
B.A., College Scholar, Cornell University
Selected Publications
Edited Collections:
Articles in Professional Journals:
Chapters in Books:
INTERVIEWS: