Kresge Town Hall
The Town Hall is the premier performance venue at Kresge College. Spanning from its founding in 1971, the Kresge Town Hall has a rich history with a long list of past performers and speakers. The Kresge Town Hall is a 250 seat auditorium available for rental through the Kresge College Programs Office. The space is extremely versatile, and has a tradition of hosting a variety of interesting and exciting programs, lectures, meetings, concerts, theatrical productions, dances, banquets, film screenings, and student groups
Capacity and Logistics
The Kresge Town Hall seats 250 and has a maximum occupancy of 616 standing. The seating of the room is flexible, however, and can be configured to comfortably fit as few as 50 chairs. The chairs are portable with molded plastic seats. Along with the seating, the Kresge Town Hall also has 10 five-foot diameter round tables, 8 six-foot long folding rectangular tables, 3 large wooden tables, 24 small round conversation tables adjustable to three heights, and a portable podium for the stage, among other amenities. We also have a variety of wired microphones, 2 wireless microphones, a data projector with computer and DVD projection capabilities, and varied audio/video equipment; all equipment is available for Town Hall renters and there is no additional fee to use the available equipment.
Stage Layout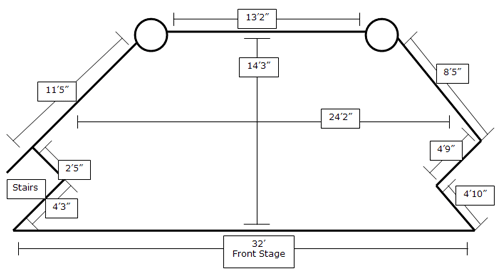 Reservations & Cost
The reservation process is on a first come, first serve basis. Pricing varies by group and the reservation fee applies to a 12 hour window, we do not host over-night groups in the Town Hall:
$150 for SOAR orgs
$250 for other campus affiliates
$350 for non-campus affiliates
We require Kresge tech staff to be present for the duration of the event, including set-up and clean-up, this is an additional charge of $15 per hour. All amenities in the Town Hall are available to renters at no additional fee. To reserve the Town Hall, please call the Assistant College Program Coordinator at 831-459-3925 or email at kresgeacpc@ucsc.edu.
Below is the current Town Hall calendar; all events shown are subject to change and may be classified as holds or reservations. Please direct any inquiries regarding available dates to kresgeacpc@ucsc.edu.
*note: during the summer, Conference Services handles the reservations of the Town Hall; the calendar below will not reflect the availability during this period. Please direct any summer time Town Hall reservation requests to UCSC Conference Services.