Kresge Faculty Fellows
Kresge College Fellows are dedicated artists, teachers, and scholars drawn from every field of study at the University.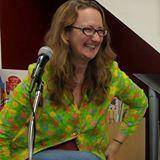 Pronouns she, her, her, hers, herself
Title

Professor
Director of Creative Writing
Associate Dean of Faculty Affairs, Humanities

Division Humanities Division
Department

Literature Department
Creative Writing Program

Affiliations Academic Senate
Phone

831-459-4586

: no messages

Email
Website
Office Location

Humanities Building 1, 233

Humanities 1 233

Office Hours Spring '23, W 2-4 on zoom, email me for link
Mail Stop Humanities Academic Services
Mailing Address

Humanities, 1156 High Street
Santa Cruz CA 95064
Summary of Expertise
Creative/Critical Writing; Reading and Writing U.S. fiction and creative non-fiction; U.S. gender, literature and culture; U.S. utopian communities.
Research Interests
U.S. fiction, autobiographical writing, and historical fiction; U.S. gender, literature, and culture; alternative communities, U.S. wilderness adventure writing, magical stories, humorous stories.