Kresge Faculty Fellows
Kresge College Fellows are dedicated artists, teachers, and scholars drawn from every field of study at the University.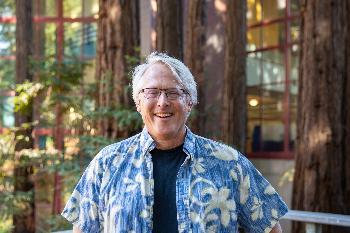 Pronouns he, him, his, his, himself
Title
Division Physical & Biological Sciences Division
Department

Ocean Sciences Department
Institute of Marine Sciences

Phone

831-459-1533

,

831-459-4718

Email
Fax
Website
Office Location

Earth & Marine Sciences, A451

Mail Stop Ocean Sciences
Faculty Areas of Expertise

Oceanography

Courses OCEA 1 The Oceans, OCEA 80B Our Changing Planet, OCEA 124/224 Aquatic Organic Geochemistry, EART 213 Biogeochemical Cycles, EART 254 The Climate System
Research Interests
Organic geochemistry, marine organic geochemistry, global biogeochemical cycles. Particularly use of amino acids and other nitrogen-containing biomarkers to study open ocean and hydrothermal sea floor ecosystems and biogeochemical cycles.
Biography, Education and Training
B.S., University of California, San Diego, Chemistry/Biochemistry (1987)
Marine Chemist; International ATomic Energy Agency, Monaco. 
Ph.D., University of Washington, Oceanography [Organic Geochemistry] (1998)


Chateaubriand Postdoctoral Fellow, Paris.  1998-1999
Carnegie Institution Postdoctoral Fellow, Washington DC 1999-2000
University of Hawaii SOEST Young Investigtor 1999-2001
Honors, Awards and Grants
Carnegie Institution of Washington Fellow, 1998
State of Hawaii (School of Ocean and Earth Science and Technology) Young Investigator Award, 1999
Chateaubriand Fellow, France Department of State, Science and Technology Mission, 1998
Selected Publications
Matthew McCarthy, Google Scholar profile: https://scholar.google.com/citations?user=3j0h3O4AAAAJ&hl=en